My daughters went to homecoming recently and I made a corsage for one and a boutonnière for the other.
My middle daughter went stag as she is too young to date so I made her a corsage.
She found her dress six months prior thrift shopping for 30 dollars not a bad price for such a dress. She modified the dress to be more modest with a shirt. I used French beaded wire techniques to make this item.
I also used pink rhinestone buttons and plastic sequins to make the corsage. The beads I used were beads left over from other projects that I had been collecting in color themes so I could make flowers out of them.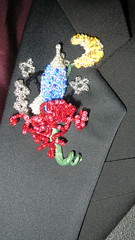 My oldest daughter went on a date the theme was starry night or some-sort of thing like that. Her dress.
I found thrift shopping for 10 dollars. Her jewelry is rhinestone I owned as a child and the purse was her grandmothers. Last time it was used was in the 1960's to go to another homecoming dance. I made a beaded boutonnière for her date in the shape a rocket with stars, and a moon. My husband did a doodle and I made the boutonnière after his design as the inspiration. I used French beading techniques to make the stars and exhaust. Wear as the rocket and moon I embroidered the beads on to apiece of felt then cut it out and stitched that on to a wire frame.